One thing that gives me serious trust issues is the fact that when I get too much happy it's like the universe is conniving with unknown forces to make something bad happen. Did you ever experience that? One minute you're in cloud nine and the next you're holding a ticket to Hades.
Let's look into Temperature of Love Episodes 3-4 on how the world played its trick on Lee Hyun-soo and On Jung-sun.
In Search of Cockles and Cuddles
Hyun-soo asked her boss (Hwang Suk-jung) to have a day-off and traveled to Beolgyo with Jung-sun, the latter wants to eat cockles where it originally came from. It's not solely for fun since the Quirky Writer intended to interview the Hot Chef and get his thoughts on her "Man Who Eats Rare Steaks" drama concept.
The trip went like the two had their first date. Both had fun and got to know the other more. At the end of the day, Hyun-soo and Jung-sun were not able to take the bus home because of the workers' strike and ended up riding the train.
We must have been praying hard because as early as now, PDnim has blessed us with a kissing scene.
The Storm After the Calm
The storm hit Jung-sun first. Upon arriving home, Jung-sun is greeted by his mom (Lee Mi-sook), whom he is hiding from for still unknown reasons. We get a preview of Jung-sun's family back story, showing how poorly his father treated his mother.
With the scorn look on Jung-sun's face and the way he asked her to leave his house, we know that the Hot Chef does not have a good relationship with his mom. Speaking of omma, she has some serious anger management issues and looks no less than suspicious. I get the sense she has an ulterior motive in looking for her son. Well, with that perfect winged eyeliner, I definitely don't trust her, keke.
The typhoon hit Hyun-soo next. Upon arriving at the office, her workmates looked surprise and wondered why she was there. The Quirky Writer was confused, she later then received hurtful words from her boss. Turns out, she was actually fired. I think her boss used her asking for a day off while their show was airing as an excuse to dismiss her, I believe she's just embarrassed that Hyun-soo was right and had the same review as the director on sticking to the topic of their program.
Tipsy Musings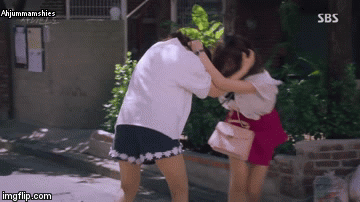 Hyun-soo's fight with her sister (Gil Eun-hye) in the street is undoubtedly my fave scene. It's downright realistic. Her younger sibling looks arrogant and come off as annoying but I think she has a good side to her. I expect heart-warming scenes from these two in future episodes.
The scenes in Beolgyo are so cinematic and I felt like I was watching a movie. I don't know if this is just me but Hyun-soo and Jung-sun's whole trip, including the train ride, gives me the same vibe as Son Ye-jin's The Classic.
Here are the lines that strike me the most in Temperature of Love Eps 3-4. Both were delivered by Hyun-soo.
"Humans are originally full of contradictions."
"You did not make me happy. I became happy on my own. It always depends on how I perceive a certain situation."
Tipsy Findings
This scene is lovely and profoundly romantic. From my point of view, the music scoring helped in setting the mood. And do you know the song playing in the background? It's a gayageum version of Pachelbel's Canon.
This classical piece is very popular in the movie and drama world. You may have heard it from the hit 2001 movie My Sassy Girl and The Classic, two of my all-time fave Korean movies (both were made by the same director, Kwak Jae-yong).
The 2013 tvN drama, Monstar showcased their own take on Pachelbel's Canon with a piano duet during the fourth episode.
Temperature of Love Eps 3-4 ended with Hyun-soo and Jung-sun feeling desperate and running to find the other. The Fates may not be on their side since they did not meet. I'm half excited, half nervous to what will happen when the Quirky Writer meets the Hot Chef's mother.
Annyeong!
~ Tipsy Ahjumma
<< Temperature of Love| Episodes 1-2
<< Temperature of Love | Episodes 5-6
<< Temperature of Love | Episodes 7-8
<< Temperature of Love | Episodes 9-10
<< Temperature of Love | Episodes 11-12
<< Temperature of Love | Episodes 13-14
<< Temperature of Love | Episodes 15-16
<< Temperature of Love | Episodes 17-18