2018 is shaping up to be a very good year for dramaland. Honestly, we at Ahjummamshies are having a tough time choosing which dramas we will review because they all seem promising. In my case, for example, it was already set in stone that I'll pick my next assignment in April, but after watching A Poem a Day, I've decided not to let this one pass because I really enjoyed it a lot.
A Poem a Day is about the unsung heroes of the medical field and how poems help them deal with struggles of their daily lives. You may think (just like I did) a combination of hospital and literature doesn't seem right on paper, but the pilot episode wonderfully pulled it off.
Meet the Physical Therapy Department contractor, trainees, and interns
Our main heroine is physical therapist Woo Bo-young (Lee Yu-bi). She dreamt of becoming a poet but decided to be on the medical field because of economic reasons. Her goal was to become a full-time employee at Shinsun Hospital.
She seems to be a little unlucky though because right after being hailed "The Friendly Employee", which would automatically increase her chance at regular employment, she got disqualified because of the very fact that she's only a contractor. If it wasn't unfortunate enough, all that embarrassment was witnessed by the guy who rejected her love confession back in university.
But what I like about Bo-young is though she's surely a crybaby, tearing up in an instant over petty things, she doesn't allow herself to wallow in sadness. She turns to poems to make herself feel better. Maybe I should start reading poems too?
Now onto the department's trainees: Kim Nam-woo (Shin Jae-ha) and Shin Min-ho (Jang Dong-yoon).
The two were both Bo-young's university juniors but Min-ho's relationship with her was far more complicated–because he's none other than the guy who dumped her. He's a rich kid who didn't really wanted to become a physical therapist and was only forced by his parents. He's carefree and happy-go-lucky, only thinking about how he could get to party. During their college days, Bo-young got drawn to him because of his easygoing and kind personality so it was like she was sent shockwaves to her body when he nonchalantly rejected her and told her he didn't like her at all. He even added that he got annoyed by the 'cheesy' poems she secretly gave him. It's like a romantic first love story gone wrong.
I personally find his rudeness as inexcusable because you can turn down someone's affection without being too harsh. However, I honestly don't think he was the reason the news reached their peers, especially when I saw this in the closing credits.
While Min-ho doesn't care about their training at all, that's not the case with Nam-woo who's very determined to get a job at the hospital. He's like that unpopular student in your class who only thinks about getting the best grades. His motivation is to make his family rich again after getting bankrupt 10 years ago. It's funny every time he whines about missing the good old days where he had a Lacoste shirt of every color and a chauffeur to drive him.
Then we've got the interns who I have yet to care about: Choi Yoon-hee (Jeon Hye-won) and Lee Shi-eun (Park Han-sol). All these two do is gossip and talk behind Bo-young's back.
Physical Therapy Department seniors
We've got also a glimpse of our full-time employees and their personalities.
We've got Chief Yang (Seo Hyun-chul) who seems pretty normal until this scene:
Dr. Park Shi-won (Kim Jae-bum) who loves escaping responsibilities by passing them on his junior.
And Dr. Kim Yoon-joo (Lee Chae-young) who also happens to be Bo-young's housemate.
The Radiology Department duo
We've also got characters from another hospital department: Dr. Kim Dae-bang (Defconn) and his apprentice Han Joo-yong (Park Sun-ho). Sun-ho is an aspiring professor reassigned to Dr. Kim who scares other colleagues away because of his indecisiveness. He was one of the source of laughter in the first episode as he dilly-dallied about basically all sort of things.
A new doctor at the hospital?
Lee Joon-hyuk's character Ye Jae-wook also made a brief appearance which was more than enough to make me more excited for this show.
Comedy and Poetry
One thing I really love about the pilot episode was that despite it being light and funny, it had a fair share of poignant scenes.
The scene where Min-ho unwittingly sent his text suggesting he and Nam-woo ditch the department dinner for clubbing to the staff's group chat was embarrassingly funny.
We've got this tactic from this cutie as well.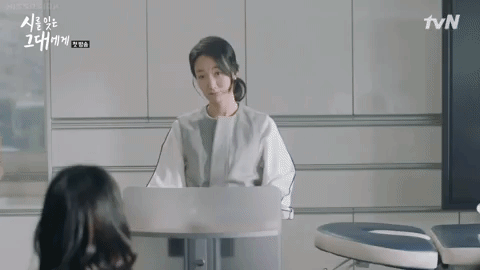 On the other hand, the contemplative moments basically were the times Bo-young read poems and get comforted. I'm liking how these scenes were played out with the words from the poems fading in on the screen. And that's the reason why I decided to make beautiful art cards for each poem. I'll feature my favorite one at the beginning of each review just like what I did now.
Here's the rest of the poems:
This drama has a right mixture of laughs and heart, a combination that always works for me. So if it continues to be this way, surely A Poem a Day will be a show I won't mind tuning in to.