It's our month-long anniversary celebration, and what's the best gift I can give to our dear readers other than featuring this sleeper hit? It's also one of the @ahjummamshies squad's favorites, so let's hop right in and start remembering the cozy yet interesting lives of our Belle Epoque boarders!
Age of Youth (also called Hello, My Twenties!) was a JTBC slice-of-life youth drama starring Han Ye-ri, Han Seung-yeon, Park Eun-bin, Ryu Hwa-young, and Park Hye-soo, which aired for 12 episodes from July to August 2016. It revolved around the lives of five university students who bonded over their own personal pains and complicated relationships. This drama had a really successful run and it received much love from K-drama fans worldwide for its relatable characters. Even its second season didn't disappoint!
🌸 BELLE EPOQUE HOUSEMATES 🌸
Yoon Jin-myung (Han Ye-ri) or fondly called Yoon sunbae by the girls was a self-supporting Business Administration student. She was living a "less than average" life, but all her housemates (and everyone else) looked up to her because of her strong personality. That's why when she broke down, everyone (including me) couldn't help but cry buckets of tears with her. Her cute moments with Chef Park Jae-wan (Yoon Park) also drove the warm fuzzy feelings in the drama.
Kang Yi-na (Ryu Hwa-young) or Kang unnie was the most liberated housemate in Belle Epoque, and the most popular among the boys. She used her beauty to her advantage, and she cared for her housemates the most. Just like everyone else struggling in this world, she also harbored her own dirty little secret.
Jung Ye-eun (Han Seung-yeon) aka Madame Jung, a Nutrition major who wore her heart on her pink sleeve. She had a good-for-nothing bastard as namjachingu, and she used to smile brightly with everyone else around. Her reluctance in breaking ties with her abusive lover caught up on her and led her to a very traumatic incident.
Song Ji-won (Park Eun-bin) aka Liar Song, a Media Studies student and campus journalist who had no boyfriend since birth. She lived everyday attending blind dates and parties. Song was the life of Belle Epoque, and because of her little lie about the cabinet ghost, their daily routines changed forever. She is also my biggest heartbreak in this series! My frustration with her non-existent love line with Im Sung-min (Son Seung-won) just continues to crush me until now. Can't they have their own show together?!
Yoo Eun-jae (Park Hye-soo) was the group's maknae Eun Soon. She was the innocent girl who had a peculiar taste for men. LOL. Her transformation from being the really shy, timid girl who was afraid to speak up to the confident lass with a cutie boyfriend was one of the highlights of this drama.
What I liked about this drama was its unique way of storytelling. The use of the hanging underwear as a way to introduce each character, and the cabinet ghost as a means to delve into the dark secrets of the Belle Epoque girls were pretty clever in directing the plot development.
Memorable scenes that will gush your heart with ~feelings~
💄 When Yoon sunbae broke down after her nail fell off
💄 The adorable push and pull of Yoon sunbae and Chef Jae-wan
💄 Ye-eun's break-up with her thug ass boyfriend
💄 When the girls filled in for Yoon sunbae at the convenience store
💄 When the girls fly kicked Eun-jae's sunbae-slash-boyfriend Jong-yeol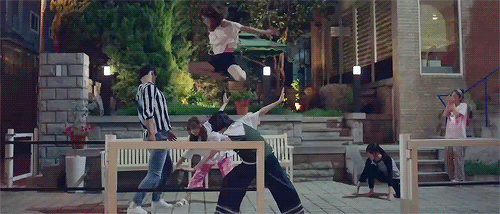 💄 When "Night of Men" became a disaster and of all people, Song was the one who faced the punishment
Age of Youth also had a well-curated soundtrack, which was another reason to love this drama.
Ahjummamshies' Question: What advice would you give to one Age of Youth 1 character?
🐾 UNICA AHJUMMA
Dear Eun-jae,
I'm so happy for you and sunbae! Ahhh, I can imagine how thrilling this is for you. First love is always like that. Trust me, I know exactly how it is because I've been there. You always look forward to seeing him. You always want to look pretty in front of him. You always want him to notice you. You always crave his attention. You always give meaning to every single thing or action he says or does. Trust me, I know all of it. I know because I've done all of it before. Love is a very powerful emotion; it can either make or break us. It can give us strength or swallow us whole. It can be a source of joy or a reason for deep sorrow. It depends on how we handle it. I hope you just let it grow on its own. I hope you don't get too consumed by the idea of love. I hope you just enjoy the exciting ride. I hope you don't suffocate it. I hope you don't overthink and overdo things. I know these are easier said than done, but I still hope you can do all of these because I don't want another first love to die a painful death just like mine.
~unica ahjumma
🎭 GRUMPY AHJUMMA
Song Ji-won is my personal favorite among the five because of her outspoken, good-natured personality, but if I'm being totally honest with myself, it's Ye-eun who resonated with me the most. My college life was purely Jung Ye-eun, minus the pink wardrobe collection, thankfully. Her problematic love life reminded me of my past abusive relationship – the good, the bad, and the ugly. And if there's one thing I would advise my college self Madame Jung right now? I'll tell her that sometimes, the most painful love is the most rewarding love. One day, she will look back at this relationship and say, 'This loser made me who I am today.' Things will still hurt, and the healing journey will never come easy. It may take a while, but she'll definitely make it.
🎀 MAKNAE AHJUMMA
I unknowingly fell in love with Song Ji-won because she cares, loves, believes people unconditionally. So if I ever have the chance to give an advice to this headstrong college gal, I'll tell her: Don't change. Vicious eyes might look at her with harsh unjust judgement but don't change. People she loved and trusted might betray her but don't change. Everything would become dull and lifeless in an instant but she should never change. I don't want to see her pretty face placating a fake smile because it was her genuineness that made her beautiful.
🥂 TIPSY AHJUMMA
A famous Korean singer once said that more precious than the times that have passed are the times to come, and what's important is to keep moving forward. So, instead of giving advice to our yeppeun Kang unni, I'll send her the warmest hug and the biggest applause for being brave and deciding to start again. It's never easy to let go of the easy life that you're used to and it's terrifying to begin anew, but Kang unni proved to us that we all have a choice to change our lives. It may be a labyrinth full of twists and unexpected turns, but we always have the power to discover a new path.
PS: Thank you for not only having a pretty face but also a beautiful soul and a warm heart.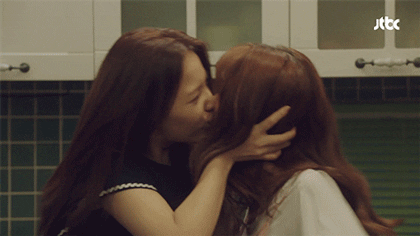 📷 BUSY AHJUSSI
Yoon Sunbae definitely had it the toughest among the girls. She didn't only have to support herself but her family as well, particularly his sick brother. So rather than giving an advice, it's more fitting to commend her for her sacrifice and determination. The only thing she could do differently is not being too hard on herself. She's working so hard, so depriving herself of even the little happiness she could get, is a torture. She should also learn how to open up about what she's going through. It doesn't have to be to everyone, a handful of trusted friends would be fine. But definitely, if I were placed in the same predicament of choosing between career and love, I would choose the former like what she did. Long-term happiness is much better than a momentary bliss.
Life in our twenties always seem the hardest. We experience life changing moments that would stir the direction of our adult life. It's a sensitive period wherein we form strong bonds with new friends while losing the old ones. It's the best time to identify the friends who are worth keeping because maintaining friendships would just get harder by the day. The girls of Belle Epoque may have entered each other's lives as strangers, but they will leave as family bonded by memories and lifelong friendship.
<< K-Drama Rewind: One More Happy Ending
<< K-Drama Rewind: Cheese in the Trap
<< K-Drama Rewind: Moon Lovers: Scarlet Heart Ryeo
<< K-Drama Rewind: Reply 1988
<< K-Drama Rewind: My Love From Another Star