This drama screams of love… If you're not into over the top cheesiness of the main OTP, then I'm afraid this one's not for you. But if you're okay with unlimited kissing and skinship, then my friend, you're in a good place. 🤭
Secret love affair
I expected this kind of secret rendezvous from Joon-hee (Jung Hae-in) and Jin-a (Son Ye-jin). I mean their characters are both in their 30s, so it's a given that this covert relationship will be a steamy one. 😂 And I'm not complaining! It's just that my JHI heart gets crashed as we go on with the story.
As much as I love Pretty Noona, I kind of want Joon-hee and Jin-a to face something more complex than hiding their relationship. I get where they come from, and their dilemma is totally valid. But I don't think we are stretching this conflict into 16 episodes. Something has to happen, right? I know I'm a bit behind in the episodes, but I'm totally optimistic that the main love line will get even more interesting as the story unfolds.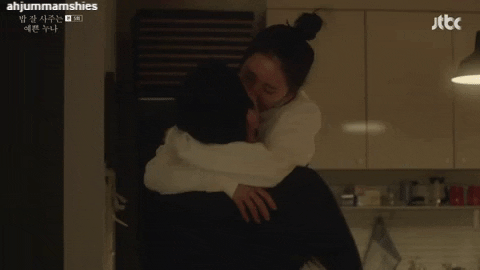 The dongsaeng duo
This Gyu-min (Oh Ryong) just doesn't stop! Why did you cheat on Jin-a if you can't let her go peacefully??? When Joon-hee and Seung-ho (Wi Ha-joon) went berserk inside Gyu-min's apartment, I was honestly clapping!!!! I even wanted join in the fun! This pervert was caught in the act of watching Jin-a's private pictures when the dongsaengs arrived!!! It was disgusting! Good job, Seung-ho and Joon-hee for destroying his gadgets and teaching him a lesson!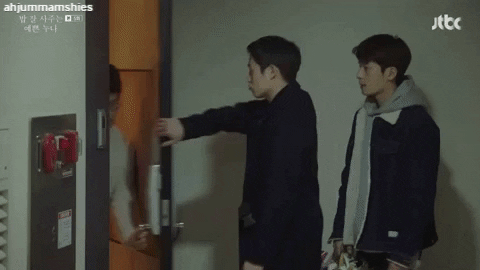 Clueless siblings
Kyung-sun (Jang So-yeon) and Seung-ho need to be more observant and skeptical lol. I don't know if they just trust their Jin-a and Joon-hee so much, but those two are just so obvious that they are hiding something. But oh well, it's fun seeing Jin-a hiding from Joon-hee's closet while talking to her BFF who happens to be just meters near her. That's the consequence of your actions, Jin-a ssi! 😂
GRUMPY ALLEY
Jin-a's eommoni just won't stop nagging, aye??? She like a broken record asking her kids to make friends with people with connections. She keeps bugging Jin-a to marry Gyu-min despite everything he did just because of his good family background. And now, she's advising Seung-ho to reassess his friends and to stop hanging out with Joon-hee. Eommoni, money can't buy class. Heck even having good connections won't even guarantee that you are a good person. If only you would know that Gyu-min assaulted your only daughter, you would be ashamed of yourself.
Can I just say I am so proud of Jin-a for being consistent in her decision to stand up against those perverts in her office? You go, superwoman!
More kisses…💋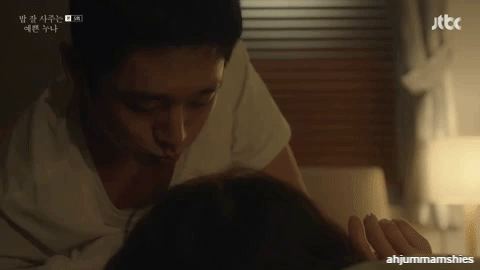 << K-Drama Reaction: Pretty Noona Who Buys Me Food | Episode 4
<< K-Drama Reaction: Pretty Noona Who Buys Me Food | Episode 3
<< K-Drama Reaction: Pretty Noona Who Buys Me Food | Episode 2
<< K-Drama Reaction: Pretty Noona Who Buys Me Food | Episode 1