Joon-hee (Jung Hae-in) and Jin-a (Son Ye-jin) are still inseparable in this hour. The new couple even went to an overnight trip with Joon-hee's close friends. It may be awkward for Jin-a to be around youngsters at first, but I'm just so happy that Joon-hee's friends welcomed Jin-a without judgment. They even got along so well!!!
I love Jin-a's father Yoon Sang-ji (Oh Man-seok) so much. He is the total opposite of his tactless wife Kim Mi-yeon (Kil Hae-yeon). When I saw Dad waiting for Jin-a inside her room, I knew he would be on Jin-a's side. He will try to understand his daughter's decision not to tell them what she's up to recently, and I hope when the truth comes out, he will be the first one to accept his daughter's relationship with open arms.
Speaking of Jin-a's mother, she just really can't control her mouth! How rude of her to talk about the importance of family backgrounds in dating when she can't even handle her own family. She is so focused on marrying Jin-a off to a capable man, and lecturing Joon-hee and Seung-ho about finding competent partners with good backgrounds. I wonder how would she react when she learns about Gyu-min's assault. Would she still cheer for that pervert?
I know I'm not really paying enough attention to the office drama between Kang Se-young (Jeong Eugene) and others at first, but since Geum Bo-ra (Joo Min-kyung) now knows about Jin-a and Joon-hee's relationship, things at the Coffee Bay headquarters would be more interesting! LOL! I love how Bo-ra teased the hell out of Se-young when she flat out asked Joon-hee for lunch!!!! Se-young is shookt~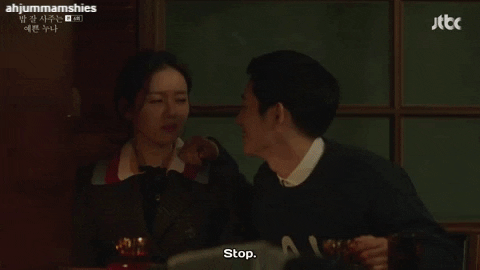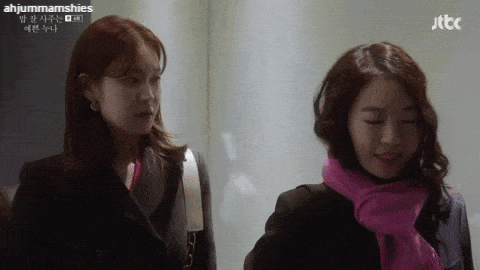 GRUMPY ALLEY
I don't know about you but that "I love you" scene broke my heart… When will Joon-hee hear those words from Jin-a???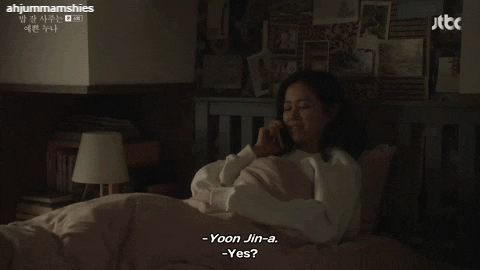 I also like how the Coffee Bay company depicts what is wrong in the corporate world, and tries to show a concrete solution about it. Sexual harassment in the workplace is a very sensitive issue not just in South Korea, but worldwide, and if we are not going to stand up against these gross abusers, this situation would never stop. Jin-a's courageous act against her superior sparked change in their office and now other female employees are following her footsteps. Good thing there is Manager Jung Young-in (Seo Jung-yeon) who also stands up for her employees and is not easily shaken by office machismo. I just hope Company President Jo Kyung-sik (Kim Jong-tae) will also be on their side.
Can somebody explain to me why Jin-a said she is turning 40 soon??? I thought her age in the drama was 35-36? Is she planning to skip those 4 years of youth lol.
It seems like Gyu-min is paying for his bad deeds in every episode! This time he got beaten up by no other than his ex-girlfriend after Seung-ho (Wi Ha-joon) spilled the beans about the flower delivery! But this confrontation did not end up discreetly as some neighbor reported the altercation to the police. But what caught me off guard in this incident was how our lover boy Joon-hee reacted after hearing the bad news! There is no way Seung-ho would not guess his noona and Joon-hee's secret relationship, right? It's very obvious now, right???
<< K-Drama Reaction: Pretty Noona Who Buys Me Food | Episode 5
<< K-Drama Reaction: Pretty Noona Who Buys Me Food | Episode 4
<< K-Drama Reaction: Pretty Noona Who Buys Me Food | Episode 3
<< K-Drama Reaction: Pretty Noona Who Buys Me Food | Episode 2
<< K-Drama Reaction: Pretty Noona Who Buys Me Food | Episode 1