We have a new romantic comedy on the block, and I am so excited to be reviewing this one, primarily because of Jang Hyuk!
WARNING: Don't ever watch this with a hungry stomach. The food porn is just so strong with this one. I can't even…
We open the drama with rising star chef Seo Poong (Junho) showcasing his mighty cooking skills and getting us all hyped up for all the food! But the fun didn't last long as we are also introduced to his fiancee, plastic surgeon Seok Dal-hee (Cha Joo-young), a cheating biatch who doesn't appreciate his efforts and had the guts to make out with her patient.
Jang Hyuk is back!
It hasn't been long since he left our small screens and yet Jang Hyuk is set to woo our hearts once more in Wok of Love! I now understand why he accepted this role… it's fun, hilarious, and light. The pilot episodes introduced us to Doo Chil-sung (Jang Hyuk), a former loan shark-slash-gangster and now runs a failing Chinese restaurant Hungry WOK with his gangster brodies. They do all sorts of things together. Their bond is so strong they take Jacuzzi baths together. 😂 Note to self: Nobody bothers Chil-sung when he is eating jjajangmyun!
Next is chaebol heiress Dan Sae-woo (Jung Ryeo-won)… she loves horseback riding and fencing, and is happily engaged. Sae-woo had a chance encounter with both our male leads in the pilot episodes… and it was hilarious! She is very talkative… or opinionated? While Chil-sung was having his haircut, she commented about him looking like a thug! Hahahaha
At the bridal store, while Sae-woo was busy blabbing about her own wedding plans, Poong was also busy worrying about his own bride. I love how Poong seemingly ignored her, but it turned out he was listening to her all the time!
We also saw Chil-sung's dying Chinese restaurant, and heard his decision of closing it down. He only started the business for his Big Dipper gangsters, and now that the business is not doing good, it's time to close the curtains.

GRUMPY ALLEY
As promised, the drama welcomed us with a lot of laughter and food: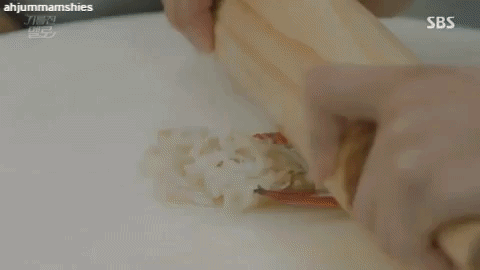 I love Sae-woo's BFF Buster!
I want to *see* more about the Big Dipper Gang! 😎 On a scale of 1 to Jang Hyuk, how much do you love your own sunnies? LOL! When you're the boss, but you're the server, too. 😂