The monster mom is on a roll… ruining our mood with her mere presence! Even though she finally revealed her true self in front of Joon-hee (Jung Hae-in), I would always prefer her doing that instead of acting all goody two shoes "trying to protect you as my own son" front act.
I can't even put into words how disappointed I am with the mother's reaction. I was so mad at her for slapping Joon-hee!!!! I expected her strong rejection of Joon-hee and Jin-a's (Son Ye-jin) relationship but her effort to go all the way to Joon-hee's apartment just to castigate him is just too immature. She even set Jin-a up for a blind date!
Joon-hee's father is back
I know we will have to face this one day, and that day has finally come for us to meet Joon-hee and Kyung-sun's polygamous father. I don't know what to think of him yet because all we saw was short scenes of him arriving and talking to Kyung-sun over the phone. I'm looking forward to his meeting with his eldest daughter, and what he has to say about Joon-hee's current dilemma.
Perverts all over
I knew Coffee Bay has been harboring perverts ever since, but this revelation about Jin-a being the subject of this sexual harassment encounters was slightly unexpected on my part. It just skipped my attention that Jin-a was called "Ms. Tambourine" by her office mates for a reason… and that reason was finally revealed in this episode. Manager Jung (Jung Young-in) acquired a strong evidence showing video clips of Director Nam (Park Hyuk-kwon) and Manager Gong (Lee Hwa-ryong) making moves on Jin-a. Disgusting pigs.
GRUMPY ALLEY
Can Seung-ho (Wi Ha-joon) and Joon-hee get more adorable than this? 🤩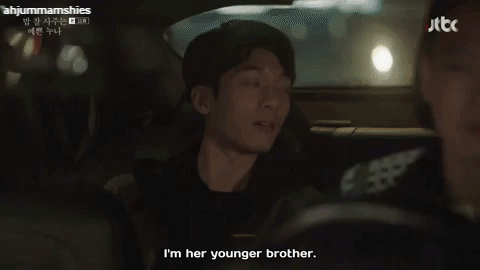 The BFF game is also strong in this one 😂
When you're the BFF and the sister-in-law in one: 😂 #PrettyNoonaWhoBuysMeFood #SomethingintheRain #SonYejin #JungHaein #JangSoyeon pic.twitter.com/kPzQu5mSWJ

— Ahjummamshies (@ahjummamshies) May 11, 2018
Speaking of Jin-a's blind date, I didn't expect this minor incident to be a big deal! Is there only one hotel in Seoul? Of all hotels in South Korea, Kyung-sun and Jin-a chanced upon each other at the entrance of this venue!
Despite all the ugly things surrounding our main OTP, I love that they can still manage to walk sweetly with warm smiles.
<< K-Drama Reaction: Pretty Noona Who Buys Me Food | Episode 10
<< K-Drama Reaction: Pretty Noona Who Buys Me Food | Episode 9
<< K-Drama Reaction: Pretty Noona Who Buys Me Food | Episode 8
<< K-Drama Reaction: Pretty Noona Who Buys Me Food | Episode 7
<< K-Drama Reaction: Pretty Noona Who Buys Me Food | Episode 6
<< K-Drama Reaction: Pretty Noona Who Buys Me Food | Episode 5
<< K-Drama Reaction: Pretty Noona Who Buys Me Food | Episode 4
<< K-Drama Reaction: Pretty Noona Who Buys Me Food | Episode 3
<< K-Drama Reaction: Pretty Noona Who Buys Me Food | Episode 2
<< K-Drama Reaction: Pretty Noona Who Buys Me Food | Episode 1