I'm proud of Seung-ho (Wi Ha-joon) in this episode. Though I don't totally agree with the way he yelled at his mom, I can understand where he was coming from. He feels suffocated doing things he doesn't want just to please his mother. He spent his days making sure that he would meet the high standards that his parents have set for him. Even his own noona is struggling because of this kind of upbringing. Jin-a (Son Ye-jin) and Joon-hee (Jung Hae-in) never intended to hurt anybody else's feelings, they just fell in love. And the fact that Seung-ho now stands up for his noona just means he is fed up with his own mother for interfering in their private lives.
Also, if his father says he did well, who are to worry at all… 😂
Can I just say I was crying so hard when these two finally talked about Joon-hee's hardships when in comes to fighting for his love for Jin-a? My gosh, if there's one person in this world whom Joon-hee should worry about, it's Kyung-sun (Jang So-yeon). She's his only family who would surely protect him at all costs. And Joon-hee has been keeping her out of the loop because of the harsh words coming out of Jin-a's mother's filthy mouth. Little did he know, Jin-a's mother already talked to Kyung-sun way before she went to his house. This Seo sibs should just volt in and fight Jin-a's mom hand in hand! 👫 Just kidding… I'm still for world peace.
GRUMPY ALLEY
Should we just give Joon-hee's father some slack for abandoning them all these years or nah?
I am so excited to see the fate of those perverts in Coffee Bay! No matter what happens, I know Jin-a will be spared from these evil bastards' wrath! Protect the whistleblowers!
Love them or hate them but I still believe Jin-a and Joon-hee still have the best kissing scenes in K-dramaland this year… Smooches all over! 😘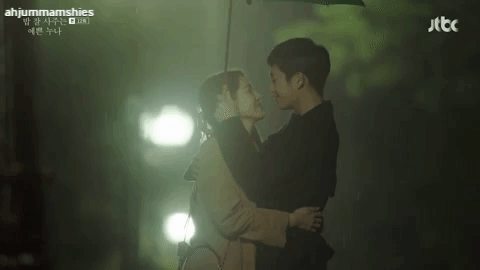 << K-Drama Reaction: Pretty Noona Who Buys Me Food | Episode 11
<< K-Drama Reaction: Pretty Noona Who Buys Me Food | Episode 10
<< K-Drama Reaction: Pretty Noona Who Buys Me Food | Episode 9
<< K-Drama Reaction: Pretty Noona Who Buys Me Food | Episode 8
<< K-Drama Reaction: Pretty Noona Who Buys Me Food | Episode 7
<< K-Drama Reaction: Pretty Noona Who Buys Me Food | Episode 6
<< K-Drama Reaction: Pretty Noona Who Buys Me Food | Episode 5
<< K-Drama Reaction: Pretty Noona Who Buys Me Food | Episode 4
<< K-Drama Reaction: Pretty Noona Who Buys Me Food | Episode 3
<< K-Drama Reaction: Pretty Noona Who Buys Me Food | Episode 2
<< K-Drama Reaction: Pretty Noona Who Buys Me Food | Episode 1