I am still lost in the middle of this dramaverse! HALP mEEE. 😂 Why are Master Wang  (Im Won-hee) and Chae Seol-ja (Park Ji-young) together, and why do they seem to grow apart (and not even recognize each other) two years after?? Why are there two Lee Mi-sook characters?? LOL. Why are Park Ji-young and the rich Lee Mi-sook friends from the 90s, but live very different lives at the present day?? WAEEEE!
Anyway, going back to the story, I hate that Poong (Junho) had to suffer from harsh treatment from his ex-wife and her new thug-ass lover. That phone call was torture. He told her that he won't be waiting for her anymore, and all she said was 'Thank you'!
I am so glad we won't stretch Buster's cancer ordeal! And I am even happier that our Sae-woo's (Jung Ryeo-won) dearest best friend survived his surgery. Now give him some pickled radish!
Now that Poong's new kitchen team is slowly gaining ground, I can't wait to witness awesome kitchen dynamics and more food porn!
GRUMPY ALLEY
This cute ahjussi is so squishy!!!! Crushing on someone at 40 years old.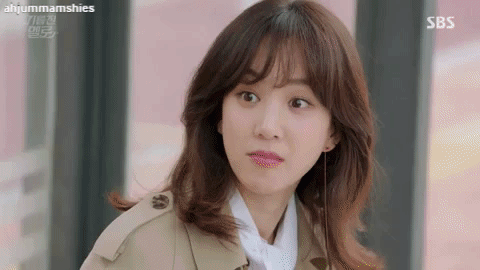 Why does this ship give me very #SaveMe vibe?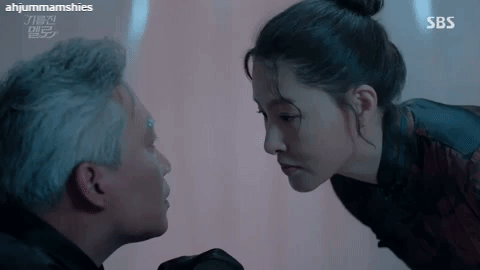 Well, no one can really deny Jung Ryeo-won's ageless beauty… Chil-sung's (Jang Hyuk) relationship as a father figure-slash-hyungnim to his gangster minions is the best. He looks after them even until bed time.
But what I'm looking forward no is Chil-sung and Poong's love-hate bromance… Seems like gum peddler ahjumma's prediction will soon come true.
Is it just me or Sae-woo is so much happier when Chil-sung is around? They keep on bickering but Sae-woo seems to be more comfortable with him than with Poong.
Or maybe because Poong has yet to start the fire between him and Sae-woo? Hmmmm we'll see!!!
<< First Impressions: Rich Man, Poor Woman, Wok of Love, Secret Mother, Investigation Couple
<< K-Drama Reaction: Wok of Love | Episodes 5-6
<< K-Drama Reaction: Wok of Love | Episodes 3-4
<< K-Drama Reaction: Wok of Love | Episodes 1-2