We have more revelations and even more confusions in this week's episodes. If you're not paying attention to every scene, you're likely to lose track of every minor character and their role in Poong's (Junho) life.
We open the episode to a throwback from 34 years ago. We saw young Gum Peddler ahjumma (Lee Mi-sook) sporting a short hair with bangs while eating jajangmyeon (yep, you guess that right). We also see a very pretty Jin Jung-hye (also Lee Mi-sook) winning the Miss Onion Beauty Pageant. Are they related or something? Because all ahjumma did was bash this winner and then ask for a gum right after eating.
So Poong's humble kitchen is somewhat complete now. He has Chae Seol-ja (Park Ji-young) in the cutting part, and Im Geok-jung (Tae Hang-ho) and the injured Gwang Dong-sik (Kim Hyun-joon) in the noodle part. Though Chil-sung (Jang Hyuk) promised his gangster minions that he will see to it that they will be back in Poong's kitchen, I'm really half-hearted about it now. I love the dynamics among the four, and even though I like to see the brodies' character developments, I want to cherish this moment for now.
Correct me if I'm wrong, but Chil-sung only removes his sunglasses whenever he is alone with Sae-woo… does this mean he only removes it when he is vulnerable? He even wears it while sleeping!
Speaking of Chil-sung, his unrequited crush for Sae-woo (Jung Ryeo-won) is so sad yet adorable. He could not even swear her even when she asked him to!
Meanwhile in Poong's life, his ex Dal-hee (Cha Joo-young) was revealed to have aborted their baby! How cruel and shameless can this bitch be? Just because Poong isn't worthy enough, she killed the child in her own womb! Even though she is just a plastic surgeon, she is still working in the medical field… and the people in this field work their asses off to save people's lives. And this ambitious, heartless woman just killed her own offspring. She is so busy making other people look good, she did not even give her own baby a chance to see its face in the mirror.
Anyway, another revelation in this episodes were the fact that Jung-hye, Seol-ja, and Geok-jung are all up to something!!!! They teamed up and planned to work in Poong's kitchen for a covert operation. What could that be??? Is it related to his past as a chef in Giant Hotel? Because the only connection I have right now is Seol-ja being Master Wang's (Im Won-hee) ex-lover.
GRUMPY ALLEY
LOL at everyone who's been having a hard time pulling Poong's knife off the door! Poong didn't even flinch while removing it using only one hand! I still don't feel anything about this budding OTP. Am I already deep in the Chil-sung and Sae-woo ship?
One order of jajangmyeon, please!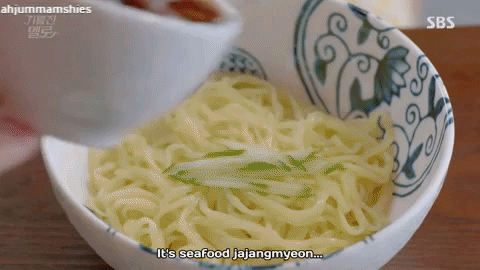 Why am I not surprised when Sae-woo's husband Na O-jik (Lee Ki-hyuk) was revealed to be a two-timer this whole time? Girl, that man did not even show up in their wedding! Sae-woo is only a married woman on paper…
… which means she can whatever she wants, be it spending a night with Poong! 😉
<< K-Drama Reaction: Wok of Love | Episodes 7-8
<< K-Drama Reaction: Wok of Love | Episodes 5-6
<< K-Drama Reaction: Wok of Love | Episodes 3-4
<< K-Drama Reaction: Wok of Love | Episodes 1-2