At least now we know that the people living in this dramaverse are all related to one another and not just some random strangers who get entangled into Poong's (Junho) life.
Jin Jung-hye (Lee Mi-sook) is the mom of our heroine Sae-woo (Jung Ryeo-won). Apparently, Sae-woo was the one who contacted Seol-ja (Park Ji-young) to apply at Hungry Wok! And because they don't want to leave Jung-hye behind after the family business went bankrupt, Seol-ja and Geok-jung (Tae Hang-ho) was forced to find work just to help in paying the Dan household's housing rent. It's as simple as that, no deep, covert operation revealed. All three of them needed money for a living.
(Sometimes, after watching too many complex drama plots, the simple ones get harder to decipher now because we keep on looking for more complications. I really appreciate these kind of dramas once in a while… simple, no nonsense premise with a heart.)
So our next goal is to figure out the relationship of gum peddler ahjumma (also Lee Mi-sook) and Chil-sung (Jang Hyuk). She acts like an annoying mother-figure to the already father-figure gangster boss. I like their love-hate banters!
Our trio went on an unplanned drinking spree in this hour. How cute is Jung Ryeo-won winking at everyone??? Girl, that's cute but that's not a good habit when drunk. LOL.
Oh boy, our puppy-eyed Mr. Gangster is falling deeply in love as the day goes by. Please don't crash my heart, dramagods! Don't let me witness this adorable ahjussi get his break broken more and more.
Also, sometimes no matter how much I hate violence, I can't help but laugh whenever the gangster brodies deliver their own brand of justice! I'm all for Dong-sik (Kim Hyun-joon) when he stormed at Giant Hotel and terrorized that thief Maeng Sam-sun (Oh Eui-sik) for seducing his wife!
…also when Chil-sung beat the hell out of Giant Hotel CEO Yong Seung-ryong's (Kim Sa-kwon) ass to avenge Poong. Gangster ahjussi, you are everyone's light!!!!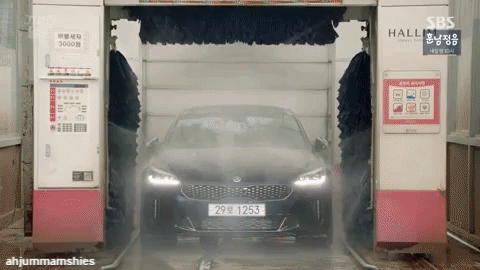 I'm so excited to see how Poong will handle the kitchen crisis (why didn't anyone call Seol-ja and company, btw???) and how will he react to Sae-woo after almost getting burned.
GRUMPY ALLEY
Buster is sooo cute!!!!
This is me every time I think about food:
I can't choose between these two bromance pairings… 😂 Is this Junho's way of seducing me to his ship??
Well, I'm not sold by that abs! My heart still belongs to the Chil-sung ship. And I'm just sad that this is the closest we can get to having a bed scene…
<< K-Drama Reaction: Wok of Love | Episodes 9-10
<< K-Drama Reaction: Wok of Love | Episodes 7-8
<< K-Drama Reaction: Wok of Love | Episodes 5-6
<< K-Drama Reaction: Wok of Love | Episodes 3-4
<< K-Drama Reaction: Wok of Love | Episodes 1-2