Whenever I watch Wok of Love, I feel like time freezes and one hour flies by quickly. I enjoy every moment in the drama that whenever we close each chapter, I kept on asking myself, "That's it? I'll have to wait for another subbed episode again just to watch Jang Hyuk and his adorable one-sided love?"
Another conflict was introduced in this episode, and it's a really bad one. Giant Hotel CEO Yong Sung-ryong (Kim Sa-kwon) went on full villain mode in this hour and teamed up with another gangster leader they call "Crooked" (Ryu Seung-soo), who, apparently, is the nemesis of Chil-sung (Jang Hyuk). This thug is on a serious search of his missing ledger containing the names of all his borrowers… which Chil-sung protects with his dear life to prevent them from being terrorized. Things are still vague about the mortal enemies' background story, but it got interesting after this thug and his minions stormed to Chil-sung's building and ransacked it.
I hate to talk about this but I enjoyed seeing Chil-sung singlehandedly fought those thugs. It just went bad when he got stabbed. I hate the sight of him getting injured, but this also opened a door for him in Sae-woo's (Jung Ryeo-won) heart. Hee hee. Nevermind the thugs, Maeng-dal (Jo Jae-yun) and the brodies are on them.
I wonder what's next for this second lead ship now that they kissed. Sae-woo seemed to be liking it!!! And this one's more proper (and hotter) than the kiss with Poong (Junho). Or am I living my fantasies again?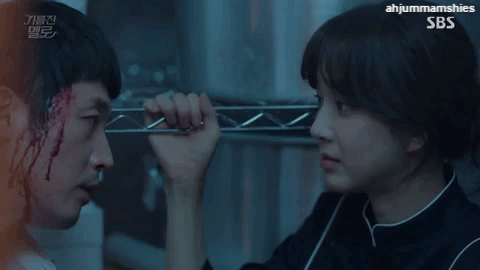 One more thing, the revelation of Sae-woo's cancer white lie was perfectly done! Chil-sung did not dwell on it much, in fact, he was happy to know that Sae-woo never had cancer. Instead of sulking over it and getting mad at Sae-woo for lying to him, Chil-sung maturely got over it quickly. #TEAMCHILSUNG 5evah.
GRUMPY ALLEY
Nothing really major happened in this hour except for Chil-sung's stabbing incident leading to that cliffhanger kiss… so let's just enjoy this small moments in the episodes.
Poor Sae-woo had to deal with Poong's harsh words in the kitchen! No wonder she's being haunted by his wok and ladle even in her sleep!
Can someone reveal gum peddler ahjumma's name already???
My gosh, my Chil-sung heart was really beating so hard in this moment! I don't care if you've been in jail, you're still Sae-woo's Mr. Light!
Wok of Love just gave birth to another iconic bromance.
Even the brodies seemed to be getting jealous by their unexpected chemistry!
<< K-Drama Reaction: Wok of Love | Episodes 11-12
<< K-Drama Reaction: Wok of Love | Episodes 9-10
<< K-Drama Reaction: Wok of Love | Episodes 7-8
<< K-Drama Reaction: Wok of Love | Episodes 5-6
<< K-Drama Reaction: Wok of Love | Episodes 3-4
<< K-Drama Reaction: Wok of Love | Episodes 1-2