Woah! I've never expected to enjoy this episode so much. The first two were just okay that I was actually not looking forward to watching this show but now I could say that I'm totally on board, particularly on board the Mi-ka-Do-ha ship. At first, I thought that the fantasy element would be its greatest asset but it turned out that it's actually the chemistry between our two leads.
Swear! I couldn't help but smile the entire time I was watching the heart-fluttering moments between the two.
The grumpy but cute Do-ha
It's very obvious that Do-ha (Lee Sang-yoon) was smitten by our heroine right from the start but now, there's no stopping his feelings from growing even more and more. I find it cute that despite his conscious effort to shake her off his mind, he would always find himself mesmerized by her.
Do-ha even got adorably jealous when the surroundings Choi Mi-ka (Lee Sung-kyung)'s attention…
…and when she's overjoyed by Jo Jae-yoo (Kim Dong-jun)'s compliments.
How could he fight his liking towards her when he's decided to hire as her chauffeur which means he'll see her more often. LOL.
And I reckon that it's naive for Do-ha to think that the way to get over Mi-ka is spending more and more time with her to get tired of it because he'll only find himself attracted to her even more sooner or later. But that's the way we want things to go, don't we?
She needs him; he needs her
I've never found Bae Soo-bong (Im Se-mi) annoying, not until now. I could totally understand her character's pettiness when it comes to her demands from Do-ha like making her a thousand folded cranes because when you've got all the riches in the world, somehow you want you something that money can't buy like sincerity.
But disguising your intention to intimidate someone with generosity is inexcusibly offensive.
The foreboding dilemma is that Do-ha will soon have to choose between the woman she loves and the woman she needs.
Speaking of needing someone, Mi-ka is now determined more than ever to get close to Do-ha after finding out that he's not only capable of stopping her lifespan clock but also adding more time to it.
And my guess is that it's when Do-ha causes her heart to beat like crazy that is increasing her time.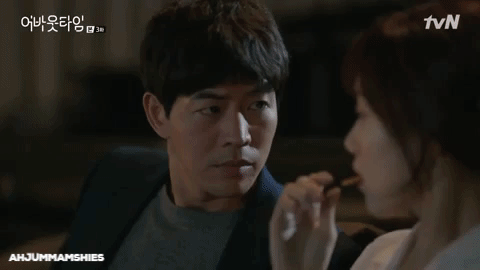 OTHER THOUGHTS
Am I the only who finds Ms. Oh (Kim Hae-sook) mysterious? I don't know if her words of wisdom are coming from her personal experience or does she has some special gift like seeing the lifespan as well?
One thing's for sure though: She's so cute and lovable!
There's no doubt Jae-yoo (Kim Dong-jun) is a genius but he's also really tactless that's why it's more fun when she received some reprimands and snide remarks from our Mi-ka. Hah.
Do you have an idea where Do-ha's lifespan clock is hidden? Don't give me silly thoughts! HAHA.
And just when I thought my heart has raced so much, then we've got a surprise confession at the end of the episode.
<<K-Drama Reaction: About Time | Episode 2