Ahhhh, this episode pierced right through me. I know for Poong (Junho) shippers out there, this episode feels like heaven. Poong got his recipe book back, Sae-woo (Jung Ryeo-won) admitted to him that she is now single, and now they're low-key flirting.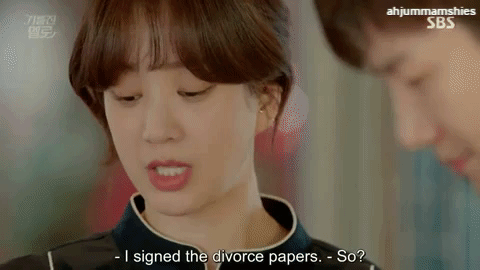 But for my Chil-sung (Jang Hyuk) heart, this is not a good sight. Can we just all be happy? Poong wi get his revenge plan rolling, while Chil-sung will get the girl. Can't we do that?
For the nth time, Maeng-dal became Chil-sung's beloved savior after he confronted Sae-woo about all the harsh words she said to Chil-sung. Yas girl, how can you fart in front of the man who likes you and make him smell it??? 😂 That's beyond mean!
But what I liked about this confrontation was that it was done while she was with Poong. While everyone was oblivious about Chil-sung's feelings, Poong should have known better. He liked Sae-woo, too. And it's not as if Chil-sung was even trying to hide it unlike what Poong does everyday while terrorizing Sae-woo.
Anyway, it is obviously game over for Chil-sung after getting rejected twice by Sae-woo. But uri ahjussi isn't the type to give up that easily! He believes that third times the charm, even in love. So he will try harder to make Sae-woo see the real him, and maybe who knows? She'll have a change of heart. This is the only type of second lead guy who doesn't get on my nerves because of his persistence.
But for now, let's just enjoy the agony while watching Poong and Sae-woo get closer to each other. The wok and ladle couple ain't backing down on the sweetness, especially during cooking time. They're too cute!
GRUMPY ALLEY
Why is Chil-sung so nice to everyone??? He almost got himself (and his mom) killed while reclaiming Poong's recipe book!!! I also somewhat liked how things turned upside down now with Sae-woo. All this time, she was so straightforward with Chil-sung, and even asked him not to like her anymore. But when it's her turn to hear those same words she used on Chil-sung from Poong's mouth, the shock in her face was priceless. She still smiled, but she was taken aback. She thought telling Poong about her divorce would mean things will now go smoothly between the two them, but naaaaa girl. Poong doesn't want you to like him, too! I love this soundtrack!!! 🍤
<< K-Drama Reaction: Wok of Love | Episodes 15-16
<< K-Drama Reaction: Wok of Love | Episodes 13-14
<< K-Drama Reaction: Wok of Love | Episodes 11-12
<< K-Drama Reaction: Wok of Love | Episodes 9-10
<< K-Drama Reaction: Wok of Love | Episodes 7-8
<< K-Drama Reaction: Wok of Love | Episodes 5-6
<< K-Drama Reaction: Wok of Love | Episodes 3-4
<< K-Drama Reaction: Wok of Love | Episodes 1-2