So we only have an hour worth of Are You Human, Too? episodes this week because of the FIFA World Cup coverage. (Yay, go KOR!🇰🇷) Not that I'm complaining because I love my football games, I just can't wait til we can get back to our weekly dose of Namsin 3.
This adorable android really captured all of me. Without a doubt, Namsin (Seo Kang-joon) is the heart of this drama, and even if no one in this K-dramaverse really (okay, maybe David) cares for him, I'm willing to adopt him and take care of him.
Looking back to the events of this full hour, So-bong (Gong Seung-yeon) found out about Namsin's real identity after that hacking incident with the driver-less car. Using all his abilities to prevent the car from causing even more damage, Namsin's back was scratched and the machinery inside him was exposed. Of course, petty human beings don't initially accept this kind of existence, so I didn't really expect a welcome reaction from So-bong.
She was so conflicted whether to keep this secret or squeal on them. Young-hoon (Lee Joon-hyuk) also found out about her hidden agenda anyway. Everyone was convincing her not to tell Director Seo about the Android Namsin, with Mom Laura (Kim Sung-ryung) even begging on her knees. It wasn't a good sight to see. But then, So-bong halfheartedly agreed that she would keep Namsin's real identity a secret.
Kill switch
This caught me off guard. When I was asking about their possible plan after the human Sin (also Seo Kang-joon) wakes up, I never imagined that the android Namsin would be tossed out like this. It's like Mom never really cared for her robot AT ALL. Now that she reunited with her real son, her android son was set aside like a real object. I know Namsin is literally an object, but he is different. He has five senses just like us. He understands human emotions. He isn't just an ordinary object, he is Namsin.
I didn't like how Mom even told Young-hoon about the kill switch inside Namsin's body. It's like legitimizing her plan to turn off Namsin for good once Sin wakes up. As if Namsin would create a scene that would jeopardize Sin's place. Isn't Namsin's first reaction after learning that Sin had arrived in Korea was to go back home in Czech Republic?
Pre-nup and Ye-na
LOL. I like Ye-na (Park Hwan-hee) for her persistence and aggressiveness in getting married to Sin. Poor girl, she fell in love with the wrong guy. What's worse is that she is born from a murderous father. She didn't even blink when she announced her consent to the pre-nuptial agreement.
Of course, her father, Director Seo, is furious that this arranged marriage is getting railroaded by Sin's grandpa. Seo Jong-gil wants to own PK Group, not be the shadow that will forever follow the owner of the PK Group. And during since he can't even control his own daughter, she will do things her own way. Ye-na set up a meeting with the families to announce her agreement to the pre-nuptial contract, and everyone was #SHOOKT. LOL. My favorite reaction was from Sin's aunt Nam Ho-yeon (Kim Hye-eun)! Even Namsin was forced to google how to reject someone!
GRUMPY ALLEY
Am I the only one who's annoyed by So-bong's friend?? How dare she hit her friend's father!
Aww, I love light moments like this! Even though I am annoyed at Young-hoon at most times because of how he treats Namsin, I can see how he really cherishes his friend, Sin.
These two are so cute it makes believe he's human, too. 😉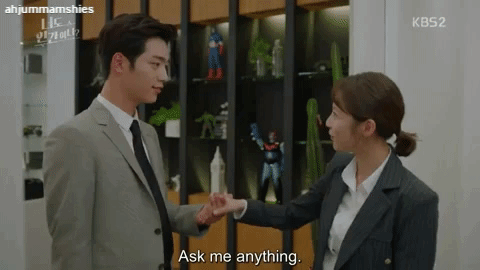 So now… we are going into the romance territory, I wonder how serious is the extent of damage caused by this kiss? LOL. Namsin-a, of everything that popped up from the search engine, why it's the kiss that registered to you? ❤
Can't help but share my favorite scene in this week's episodes. Have fun!
<< K-Drama Reaction: Are You Human, Too? | Episodes 7-8
<< K-Drama Reaction: Are You Human, Too? | Episodes 5-6
<< K-Drama Reaction: Are You Human, Too? | Episodes 3-4
<< K-Drama Reaction: Are You Human, Too? | Episodes 1-2