The show seems to be deteriorating at this point, and with only 1 hour worth of episodes left, I honestly cannot predict how they will wrap everything up. Even the ending of Episode 34 is very unexpected, and even though I hated Dr Oh Laura (Kim Sung-ryung) before, I never wanted her to exit like that! How would the human Nam Sin (Seo Kang-joon) recuperate from his emotional wounds when all this show did was to wreck him even more?
We finally learned about the grand plan of Young-hoon (Lee Joon-hyuk) and Namsin 3 (also Seo Kang-joon). The robot apparently revealed himself to certain people whom he trusted like Hwang Ji-yong (Cha In-ha) of the Medicar Team, aunt Ho-yeon (Kim Hye-eun), and Hee-dong (Seo Eun-yool). They managed to revise the share transfer agreement with Sin and asked Auntie to also give hers to Young-hoon. In short, Young-hoon is now the rightful chairman of PK Group because he has the most shares in the company. Good move, but very treacherous.
I also realized how easy peasy it was for Namsin 3 to be accepted by the public when he revealed his real identity at the stockholders meeting. Like all he did was to ace that M-City presentation and everyone was already applauding him. I don't personally agree with the idea of having AI robots running a real city as in the vision of M-City, but well, if they say humans and robots can co-habitate, I'll just accept it since we're in dramaland anyway.
Of course, Sin would be furious as he realized that even Young-hoon had turned his back on him. He couldn't believe how he was stabbed in the back by the only person he trusted right now. The only thing that went right for him was the way he learned about the kill switch so conveniently courtesy of his ailing grandfather.
Speaking of kill switch, even though I love that Namsin 3 is alive and well, I can't accept how they all hyped up the kill switch during the entire drama, but it got resolved in minutes!!?? Also, now it's proven that the tandem of Seo Jong-gil (Yu Oh-seong) and Sin is a deadly combination.
[Spoiler Alert]
I know it's too late to question Laura's decisions, but why on earth did she save Namsin 3 and took all the damage when we all know that the robot was supposed to be as hard as steel? He is indestructible, right? Only the kill switch could literally "kill" him, right? So why would you take the hit when you can just fix the robot's skin afterwards? Remember, he even saved lives using his superhuman abilities during the bar fire. Why show, why??? Are they trying to humanize Namsin 3 right now by making him depressed following his Mom's death?
What about Sin? How would he ever repair his scarred relationship with his Mom now that she's dead already? Really now… how would they end this drama when I've got endless questions?
GRUMPY ALLEY
Anyway, for the lighter moments…
Cute Daddy Jae-sik (Kim Won-hae) taking the bday celebrant Namsin 3 to the sauna 😍 And the "I love you" scene~ they finally had a proper kiss!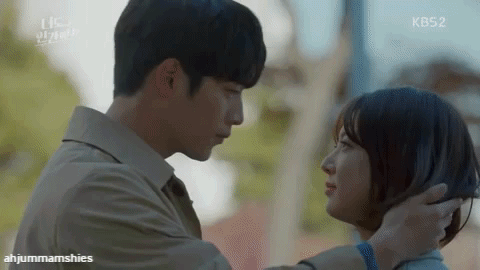 << K-Drama Reaction: Are You Human, Too? | Episodes 31-32
<< K-Drama Reaction: Are You Human, Too? | Episodes 29-30
<< K-Drama Reaction: Are You Human, Too? | Episodes 27-28
<< K-Drama Reaction: Are You Human, Too? | Episodes 25-26
<< K-Drama Reaction: Are You Human, Too? | Episodes 23-24
<< K-Drama Reaction: Are You Human, Too? | Episodes 21-22
<< K-Drama Reaction: Are You Human, Too? | Episodes 19-20
<< K-Drama Reaction: Are You Human, Too? | Episodes 17-18
<< K-Drama Reaction: Are You Human, Too? | Episodes 15-16
<< K-Drama Reaction: Are You Human, Too? | Episodes 13-14
<< K-Drama Reaction: Are You Human, Too? | Episodes 11-12 
<< K-Drama Reaction: Are You Human, Too? | Episodes 9-10
<< K-Drama Reaction: Are You Human, Too? | Episodes 7-8
<< K-Drama Reaction: Are You Human, Too? | Episodes 5-6
<< K-Drama Reaction: Are You Human, Too? | Episodes 3-4
<< K-Drama Reaction: Are You Human, Too? | Episodes 1-2