What can I say? It's not the ending we imagined. It made us even more curious, but I was surprisingly happy with it! I know the drama's finale only left more things unanswered but I don't want to dwell on it really because of the roller coaster ride I just had while watching the last two episodes. I was teary-eyed all throughout, while tossing between the miserable and cute. So if you haven't watched it yet, this isn't the place for you because I won't have second thoughts in bombarding this reaction post with spoilers.
Yes, Mom (Kim Sung-ryung) really died, without any remorse from the writers. I was thinking about how to curse at both the PD and the writer until the drama's last scene. I kept on remembering how I still haven't moved on from the scars of Uncontrollably Fond and why do I have to go through all this familiar pain again. But then, I was really thankful they didn't kill off our hero and gave him the ending he deserved.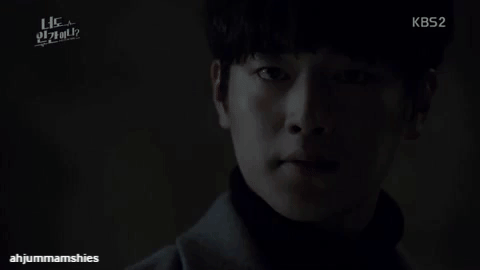 David (Choi Duk-moon) also briefly explained why Mom had to do the saving and why Namsin 3 (Seo Kang-joon) couldn't do anything to save his Mom. Because of the kill switch activation, he was unable to move on his own and was really weak, but I still don't buy it. The robot may not be in his best when the incident happened, but his physical body was still in good shape. Mom could have let him take the hit, then fixed his outer parts afterwards. We even saw now how he escaped "death" through the help of David!
Anyway, I'm just sad that the mother had to die, but I admit it became a good and sensible turnaround moment for both Nam Sin (also Seo Kang-joon) and Namsin 3. The human Sin woke up from his pathetic self pity, and started to see the good in his own mother. I know it's too late to redeem Sin now, but at least we get to see him change for the better, instead of ending his character as a heartless evil son.
I also agree with Young-hoon being the chairman of PK Group. He is the most deserving of the position, especially with his unquestionable loyalty to the company despite all the chaos. He isn't greedy, and he truly cares for the chairman. I'm just disappointed that we would never get to see the M-City come into fruition.
I admit the ending felt like it was rushed that it could still have enough material for two more episodes. I'm just glad that So-bong did not end up with the human Sin! I would definitely prefer her alone than being with human Sin. Maybe this is why I liked the ending despite it's unrealistic nature. LOL. No hard feelings towards the human Sin now, but I can't see him and So-bong together. Good thing they managed to make So-bong despise him even after a year of no contact because that's believable.
GRUMPY ALLEY
Everything I'll miss in this well-loved series:
Maibo! Where can I get one???
Appa and the two minions. I wish their interactions with Namsin 3 were given more air time than the dirty office politics and revenge plots 😦
Young-hoon. This is my first Lee Joon-hyuk drama and it made me regret that I didn't tune in to A Poem A Day. I guess it's not too late for a drama marathon, right?
So-bong and Namsin 3… These two were the life of the drama. So-bong's unconditional love for Namsin 3 was the only proof we need in order to believe that this couple's relationship would last a long time. I don't care about the biological aspect of their unusual relationship anymore, because ever since So-bong admitted that she learned to love the robot for who he was, she already convinced us that she didn't care about the physical appearance (or composition in this case) of Namsin 3. She loved him because of his personality and gentle nature. After all, they can always change his appearance to coincide with So-bong's age anyway. 🙂 I will definitely miss our Tin Can couple!
Seo Kang-joon as himself… I can't wait for uri oppa's next project!!! I'm just so happy that he has two more dramas lined up. We won't be missing him for too long! He just keeps getting better in acting, too. Being Nam Sin is his best character yet when it comes in his acting portfolio, and I'm so excited to meet more drama characters in the future through him.💖
I know the ending is unconventional, but they live in a fictional world anyway. I'll accept it with open arms just like how So-bong embraced Namsin 3 with all her heart. What's important is that our Namsin 3 is alive and well! If there's someone in this show who really deserved to have a happy ending, it's Namsin 3!
<< K-Drama Reaction: Are You Human, Too? | Episodes 31-32
<< K-Drama Reaction: Are You Human, Too? | Episodes 29-30
<< K-Drama Reaction: Are You Human, Too? | Episodes 27-28
<< K-Drama Reaction: Are You Human, Too? | Episodes 25-26
<< K-Drama Reaction: Are You Human, Too? | Episodes 23-24
<< K-Drama Reaction: Are You Human, Too? | Episodes 21-22
<< K-Drama Reaction: Are You Human, Too? | Episodes 19-20
<< K-Drama Reaction: Are You Human, Too? | Episodes 17-18
<< K-Drama Reaction: Are You Human, Too? | Episodes 15-16
<< K-Drama Reaction: Are You Human, Too? | Episodes 13-14
<< K-Drama Reaction: Are You Human, Too? | Episodes 11-12 
<< K-Drama Reaction: Are You Human, Too? | Episodes 9-10
<< K-Drama Reaction: Are You Human, Too? | Episodes 7-8
<< K-Drama Reaction: Are You Human, Too? | Episodes 5-6
<< K-Drama Reaction: Are You Human, Too? | Episodes 3-4
<< K-Drama Reaction: Are You Human, Too? | Episodes 1-2