There's one particular scene in this drama that I would not be able to forget for a long time. Remember when Go Moon-young (Seo Ye-ji) took her dad to a walk and instead of a loving daughter-daddy time, what we got was a very disturbing choking scene? It's just one of the antics of this drama to make it more appealing, I guess. But what made it remarkable was that not even a single soul managed to ask Moon-young if she's alright. Not even a single one. She was the one who got choked by her ill father. I get it that she's not the patient in uniform here, but she's the one who got hurt. And that's what made this show alarming.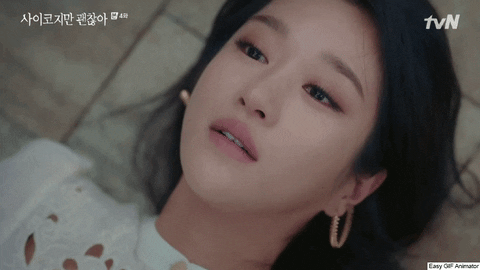 It's Okay To Not Be Okay may not be your typical K-drama. It's really dark and chaotic and twisted and odd. But it's one of the best dramas in 2020 – that I can confidently say. I know I described it earlier as an alarming story – because it is – and continued to be from start to finish. It's not for the faint of heart. It has its suspense thriller parts. It even has cameos and side characters with really compelling backstories. It will question your adaptation to the normalcy of your own current reality. Am I normal? Am I the weird one? Aren't we all just twisted human beings hiding in fake smiles?
The premise of the story seems to be textbook, but man, the execution was amazing. Poor boy meets rich girl in their childhood days. They meet again in their adult lives but apparently, they now share a very dark past that no one could dare enter. And then, they fall in love. Pretty common for a longtime drama watcher, right? But again, cliches are there for a reason and every time they are executed well, it's totally fine (and this time the tropes were done in excellent taste).
Going back to the story, we met the Moon brothers, Sang-tae (Oh Jung-se) and Gang-tae (Kim Soo-hyun) early on with a very traumatic past. Their mother was murdered by an unknown person and Sang-tae was the only witness to the crime. Unfortunately, Sang-tae has autism which made it hard for him to become the star witness in solving the case. To make matters worse, he was traumatized by what he witnessed and associated the murder suspect with butterflies. These "butterflies" were always haunting the brothers when the spring comes, which prompts them to move from one place to another.
And one day, in fairytale-like fashion, he reunites with his childhood crush Go Moon-young, now a very established children's book author. Over the years, Moon-young develops anti-social personality disorder which makes it hard for her to understand Gang-tae's behavior. Both of them struggle to find each other's balance, but as the story unfolds, they become each other's anchor.
The Troublemaker Trio
The series' narrative is a parallelism to the final book that Moon-young was trying to write. Like a parent reading his child a bedtime story before going to sleep, the series undergoes a full fairytale telling process. The majority of the series' scenes happened in the OK Psychiatric Hospital and the Cursed Castle. Both very iconic locations that play a big role in the character development of Moon-young, Sang-tae, and Gang-tae. Moon-young's book stories are heavy and dark, which take a lot of open-mindedness to fully grasp the life lessons that she wants to impart to children. It's like she uses her books to communicate her own life but with very grotesque storytelling.
Regardless of your age, there's a certain mindset and attitude needed to read a fairytale, and this is where the importance of the hospital comes in. You don't enter a psychiatric hospital expecting everyone to be normal. There's a level of humility and understanding expected out of you when you're in that place. In the series, it's established through Sang-tae's character that there's a strong similarity between a child and a person with special needs. Never lie to them, insult them, disregard their feelings, and most important of all, forget to listen for what they have to say. Sang-tae's innocence is so pure, his mental health is like that of a child's. But as the series would remind us, even a child can teach an adult an important lesson in life.
Interestingly enough, you'd think that the patients are the only ones trying to mend at the hospital. But the substantial amount of time Moon-young, Gang-tae, and Sang-tae all have to spend there is quite telling that they too were trying to heal from their respective "special cases." What's more significant is that both Director Oh Ji-wang (Kim Chang-wan) and Ju-ri's mom Kang Soon-duk (Kim Mi-kyung) played crucial roles in the healing of the primary characters. Director Oh always had the right thing to say or trick to play, while Ju-ri's mom never served food that the three of them didn't like. And it's not a coincidence that both of them work at the hospital.
Finding Their Real Faces
As we dig deeper into the story, we also learn more about the story of Moon-young's parents. I must admit though that I don't agree with the route they took in the main revelation of Moon-young's mom. I felt like those creepy scenes with her mom during flashbacks were put to waste when the real Do Hui-jae resurfaced. Even the dying story of Moon-young's father about how he apparently killed his own wife was confusing. Or was it even real? I learned about the suspension of disbelief through this drama, and mind you, it's not easy. I could not accept that Nurse Park had us all fooled – even her own family. I know of all these theories about Nurse Park but I dodged them, honestly. And when it's finally confirmed to us that's she's indeed the mother, I was disappointed. Was it lazy writing? I think not. Was it a bad route? Well, maybe. Moon-young's mom played a big part in her adult being, and I liked how she was portrayed as rotten all throughout. It justifies all the evilness that engulfed the story. But when she became a real person in front of us, the magic lights just went off.
While Moon-young's mom is a character everyone would hate, she's essential to the development of the three protagonists. The mom represents everything that the trio lost when they were children, and it's just poetic justice that it took the three of them to "defeat the Evil Queen" so to speak in the Cursed Castle. This moment allowed their real faces to resurface and finally vanquish their inner demons through their tragic past.
The Moon Family and the Camping Van
Like any fairytale story, It's Okay to Not Be Okay delivered the happy ending the series deserves. Gang-tae finally went on the trip he's yearning for with his brother and Moon-young. But most importantly, this trip embodies the growth and transformation of the three. At last, Gang-tae gets to live the life that he wants, Moon-young breaks free from her parents' influence, and Sang-tae becomes an independent man. The very fact that the brothers agree to part ways means that they are now truly healed. The conclusion we receive from this series is more than just Okay. The way they shed light on some serious mental health issues such as grief, depression, psychological trauma was exceptional. It's perfectly fine to cry when you're in pain, get angry when someone wronged you, and feel happy without the pressure of guilt. The drama ends with a reminder for all of us that literally, it's okay to not be okay.
<<First Impression: It's Okay To Not Be Okay
<<K-Lookbook: Seo Ye-ji (It's Okay To Not Be Okay)
<<Kim Soo-hyun books small screen comeback via tvN's "Psycho But It's Okay"
<<In Spotlight: Seo Ye-ji Filmography
<<In Spotlight: Kim Soo-hyun Filmography
<<Five Sad Beautiful Rejections in K-dramas