It's not always fun and laughter… that's what Wok of Love proved in it's second hour. It also has the potential to touch our hearts with moments of pain and betrayal.
Mr. Gangster
Is it just me or making Chil-sung (Jang Hyuk) as the drama's second lead guy is just heartbreaking already? We haven't even started with the romance yet! Please make him neutral, jebal! We are just in the third episode and Chil-sung already confessed that he has fallen in love at first sight towards Sae-woo (Jung Ryeo-won)! I mean it's super adorable… but please don't break our hearts with this ship, drama gods!
When he protected Sae-woo from the goons at the bridal shop, I was out of breath! Jang Hyuk still got the moves!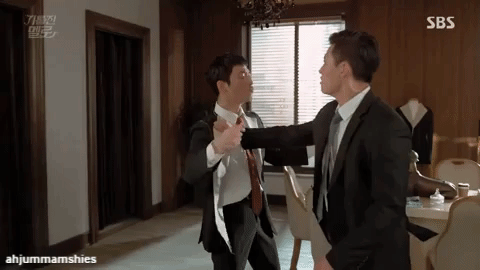 Ms. Cancer Patient
Is this some kind of a twist because I don't remember reading anything about Sae-woo having cancer in the story!? On the day of her wedding, her groom ran away, her father was arrested right in front of the altar, her mother collapsed after witnessing everything, and now, Sae-woo was diagnosed with fourth stage lymphoma. Just when you thought you are having a bad day, always remember our dear Sae-woo's elite facade crumbled down within a snap.
Mr. (Not) Head Chef 
Poong (Junho) used to be a rising culinary star in Giant Hotel, but it only took one day to lose everything he had. It also didn't help that his ex-wife Dal-hee's (Cha Joo-young) new guy is the Giant Hotel CEO, Yong Sung-ryong (Kim Sa-kwon). He wanted Poong to get out of his way and used his influence in kitchen politics to execute his plan. When Poong was already being congratulated for having a sure spot as the next Head Chef, it was announced that he would be transferred to a far away rest house of the CEO's family.
I was tearing up when Poong stormed at the Finishing Touch kitchen and started talking to his "friends" about opening their own restaurant. If he only knew those whom he considered friends were the very people who betrayed him and squealed on their superiors.
GRUMPY ALLEY
This doctor only had one scene but I hate him already! Is this how they do it in the medical world???
Sung-ryong is perfect epitome of a douche bag.
Chil-sung legit cares for his gangster brodies! This is bromance on an entire new level! When Poong asked to open his own restaurant at Chil-sung's building (for revenge), our dear gangster ahjussi only had two conditions for Poong: (1) teach his boys how to cook; and (2) let his boys cook as part of Poong's restaurant.