I knew it. Grandpa (Park Yeong-gyu) was faking his illness so that he would know who were really on his side. He was testing Sin (Seo Kang-joon) as his heir apparent, and he wanted to see how he will react to his deteriorating health. Well, to be fair, it's the robot Namsin (also Seo Kang-joon) whom they are all dealing with. Maybe things will be different if it's the human Sin who's around them. Also, I liked how Director Seo (Yu Oh-seong) eventually revealed his true intention once he took the bait in the dementia act. And this snake is determined to act as if he is still concerned with the chairman.
Like father, like daughter
For the first time in this drama, Ye-na (Park Hwan-hee) got me so worked up!!!! I hate her for being rude to Namsin 3 and everyone in his side. The bitch even used Namsin's secret to get what she wanted! And don't even get me started with the way she mistreats our precious Namsin!!!!!!!!!
This spoiled brat is indeed her father's daughter!!! She is condescending and desperate! I hated her when she asked Namsin to face the wall, and I loathed her more when she turned off his battery. Good thing So-bong (Gong Seung-yeon) and Namsin were not the type to back down on her and let her do everything she liked. I may not like how Namsin pushed her to the ground, but it's what the robot believed to be right at that moment.
Bodyguard in love
My love-hate relationship with So-bong continues. Though I used to get annoyed with her in the previous episodes, I now like her for being Namsin's rock during difficult situations. I know Young-hoon (Lee Joon-hyuk) is always there to protect him too, but he is doing it because he cared for the real Sin, while So-bong, on the other hand, cares for the robot one.
I can't help but be concerned by So-bong's developing feelings for  Namsin. She is starting to care for him as a real person, and even though I like it, I am deeply worried about her falling in love with a robot. I hope the real Sin wakes up soon so that we can see them interact with each other, too.
GRUMPY ALLEY
Namsin, you're cute but please no to violence! 😂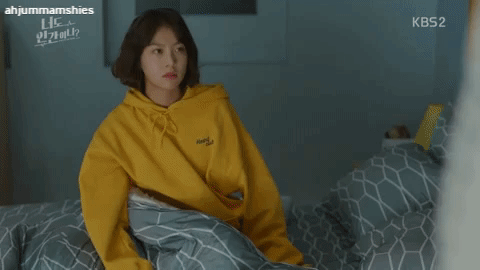 LOVED this scene! Young-hoon deserved to be considered as his grandson after all.
Namsin – 1 Ye-na – 0
Namsin's side comments are always the best.
I hope this kid and Sin's relationship will continue to improve even after he wakes up.
I will protect you will all my heart and soul, Namsin!
<< K-Drama Reaction: Are You Human, Too? | Episodes 11-12 
<< K-Drama Reaction: Are You Human, Too? | Episodes 9-10
<< K-Drama Reaction: Are You Human, Too? | Episodes 7-8
<< K-Drama Reaction: Are You Human, Too? | Episodes 5-6
<< K-Drama Reaction: Are You Human, Too? | Episodes 3-4
<< K-Drama Reaction: Are You Human, Too? | Episodes 1-2